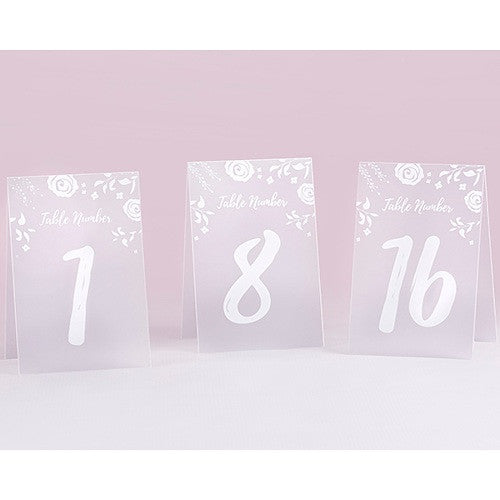 White Frosted Floral Tented Table Numbers 1-18
---
Soft and inviting, our White Frosted Floral Tented Table Numbers from the Ethereal collection bring a touch of grace to all your event tables! Beautiful for dreamy weddings and timeless events, these table numbers have a frosty finish to bring a gentle touch to your centerpieces. With numbers 1 through 18 included, you'll have all your tables covered!

Frosted-finish tented table numbers featuring numbers written in an elegant white brushstroke and beautiful floral details around top.

Measures 3.9" w x 5.9" h. Table numbers stand on their own, no additional stand necessary.


---
More from this collection
Liquid error (layout/theme line 423): Could not find asset snippets/spurit_uev-theme-snippet.liquid